Ambos Nogales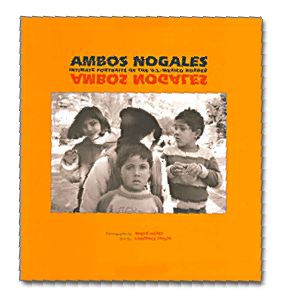 For more information or to purchase, please visit the SAR Press website. Ambos Nogales is also available on Amazon.com.
Photographs by Maeve Hickey; Text by Lawrence J. Taylor
Nogales, Arizona and Nogales, Mexico: these non-identical twin cities, separated by a fence, are at once quintessential and burlesque versions of their respective nations, The United States and Mexico. Here, first and third worlds come together, at times face to face and at times back to back.
Evoking the startling contrasts, brutalities, radiant beauty, and resilient people, these astonishing black-and-white photographs and penetrating essays reveal the ironic embrace of Nogales.
A powerful classroom book
Ambos Nogales has been used with great success as a course book in a variety of disciplines.
Reviews
"A fresh and vivid look at life on the U.S.-Mexico border."
- Robert Alvarez, Department of Ethnic Studies, UC–San Diego
"…Hickey paints a vivid picture of the stark contrast between the two cities that face one another, separated by chain link, corrugated metal and the notorious concrete tunnels that serve as passageway for rainwater, drugs, and would-be immigrants"
- JM Barol, Albuquerque Tribune, 6/28/02