Books
In collaboration with writer and anthropologist Lawrence J. Taylor, Maeve Hickey is the author of three books:
Ambos Nogales
An account of the stark contrasts between Nogales, Arizona and Nogales, Mexico.
Tunnel Kids
Explores the world of children who live in tunnels along the Mexico/ arizona border.
The Road to Mexico
A narrative of Maeve Hickey and Lawrence Taylor's encounters while traveling the road links Mexico and Arizona.
Maeve Hickey's work has also been featured in the following publications: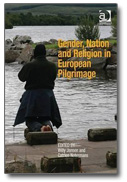 Gender, Nation, and Religion in European Pilgrimage

Photgraphs featured on the cover and throughout the book.
2015: The Tourism Imaginary and Pilgrimages to the Edges of the World


Photographs and pilgrimage account
Channel View Publications
Bristol,UK

2012: Gender, Nation, and Religion in European Pilgrimage


Cover and chapter photographs
Ashgate Press, Surrey, England

2008: Mosaic: A Celebration of Irish Research


Photographs
Publisher: IRCHSS